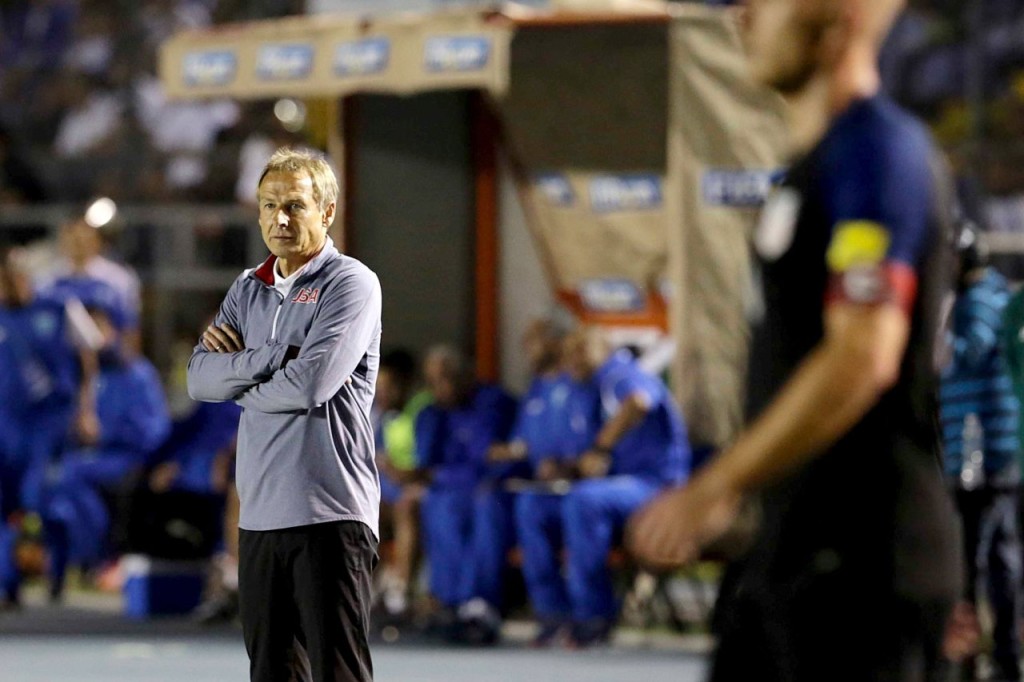 There is going to come a time when the U.S. men's national soccer team gets bounced unceremoniously from a qualifying tournament for the World Cup.
Even great soccer nations experience these calamities. England wasn't part of the 1994 World Cup or the 2008 European Championship. The Netherlands, which came within a penalty shootout of a second consecutive World Cup final in 2014, failed to qualify for this summer's Euro. With the flick of a switch, total football went into a total funk.
It will happen to the U.S. men some time, too. It just wasn't supposed to happen now.
Yet all of a sudden, the biggest game in U.S. men's soccer in decades is upon us. The streak of appearing in every World Cup since 1990 could come to an end as soon as Tuesday night in Columbus, after what most soccer-heads figured would be a yawner of a qualifier against Guatemala Friday night turned into a 2-0 disaster.
Head coach Jurgen Klinsmann, the German virtuoso who was supposed to have the secret codes to make U.S. soccer world class, accepted some of the blame. He had players playing out of position and off the back foot from the opening whistle. They left half the U.S. goal open on a corner kick, leading to Guatemala's first strike, and allowed Guatemala's goalkeeper to deliver a bizarre 70-yard assist on the second one.
Now, at a point in qualifying when tiny island nations like St. Vincent and the Grenadines are still in the competition, another defeat to Guatemala on Tuesday would mean that the U.S. is realistically—if not mathematically—eliminated.
For everyone who thought they could just flick on the tube in June 2018 and see the U.S. take on Germany, Argentina and the rest in Russia, this is a reminder that World Cup soccer doesn't work that way.
Each continental confederation first holds a roughly two-year qualifying tournament. For the U.S., which plays in Concacaf, the confederation for North and Central America and the Caribbean, gut-check time usually happens during a six-team, double-round robin tournament known as "The Hex," which takes place the year before the World Cup. But the U.S. men are now in danger of failing even to qualify for "The Hex." Anyone got a number for Carli Lloyd?
How things took such a disastrous turn for Klinsmann and U.S. men is about to become a terrific debate in those increasingly crowded soccer pubs that open at 7 a.m. every Saturday.
Klinsmann, the former German superstar who kick started Germany's own soccer revolution a decade ago, took the helm at U.S. soccer five years ago promising a new era of accountability and aggression in the U.S. game. To the powers that be in U.S. Soccer, this was the most popular and athletic kid in high school deigning to fraternize with the geeks, showing them how to pop their collars and wear their Ray-bans just so.
Klinsmann was going to make us cool—never mind that after flaming out with Bayern Munich, the soccer cognoscenti in Europe were starting to question whether Klinsmann was actually all that cool himself. Philipp Lahm, who played under Klinsmann for Germany and Bayern, wrote in his autobiography that, "the experiment with Klinsmann [at Bayern] was a failure. We were only working on our fitness in training. He didn't care much for tactical stuff. It was up to the players to come together before a match and discuss how we were going to play."
Yet five years ago, Klinsmann's messages sounded refreshing. He challenged the cream of the crop to fight for respect and for playing time in the lineups of Europe, rather than enjoying the cushy home life of Major League Soccer in the U.S. He promised a team that would reflect the character of the country— attacking relentlessly and refusing to be dictated to. Accolades for surviving group play would not be accepted. It was trophies or bust.
Lately it's been mostly bust, and as it always does in this sport, the blame is going to fall at the feet of the $3-million-a-year coach. To be fair, Klinsmann doesn't have a roster of superstars. None of them, even the foreign-born players, can crack the lineup of a top-tier club in Europe. Young projects, such as midfielder DeAndre Yedlin and German-American striker Julian Green, have stalled.
Clint Dempsey is 33-years old, and his favorite attacking move these days is to dribble headlong into two defenders, collapse on contact and scream at the referee for not calling a foul. Even watching Cristiano Ronaldo squeal for justice every time his knee hits the grass gets tiresome—and Dempsey is hardly Ronaldo.
Sourced from: http://www.wsj.com/articles/u-s-soccers-day-of-reckoningagainst-guatemala-1459186740